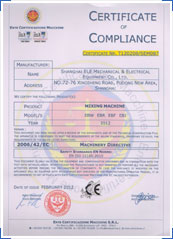 CE认证
The minutes of the design inspiration came to mind, ELE have been feed intelligence into the machine by scientific, manufacturing and service language, not only to be the technical creator, try the best to develop new product, but also continuously improve the production technical level. Because we know well that the worth of the machine is that the customer can enjoy the efficiency, quality and the success, so we derive the essence among the colleagues, at the meanwhile even go after reliability,
high efficiency, and stable. The products have been exported to global world, like American, Europe, Canada, Japan, Korea, Southeast Asia, Australia, and Middle East, etc. and well appreciated by the customers.
Enterprise spirit of ELE is "Qualified product is to do social obligations; Excellent quality is a contribution to society", insure the implement of customers' satisfactory. Achieve "Zero Defect Quality Control", persist on "Sincere interest, innovation excellence." Meanwhile, spirit of innovation is booster of our development. Some of our innovation is from the customers' suggestions and the high requirement to the machine. Our work do not have limit, hereby to achieve striding development.We are not just supply machines; we are doing solution and best service for you. Our quality guarantee "Turn off quality product to meet customers' demand" .
Links: China bead mill | sand mill prices | sand mill manufacturer | nano inkjet bead mill | paint grinding mill |
Copyright © 2014 Shanghai ELE Mechanical & Electrical Equipment Co., Ltd 中文版 | ENGLISH

Tel:+86-21-55380043/65444615/65319425
Mobile phone/Whats app :008617765107872
Email:sandra@elemix.cn
Add:No.11 Songfu Road,Qingpu District,